The roots of Goju ryu karate.
Higaonna Kanryo (東恩納 寛量)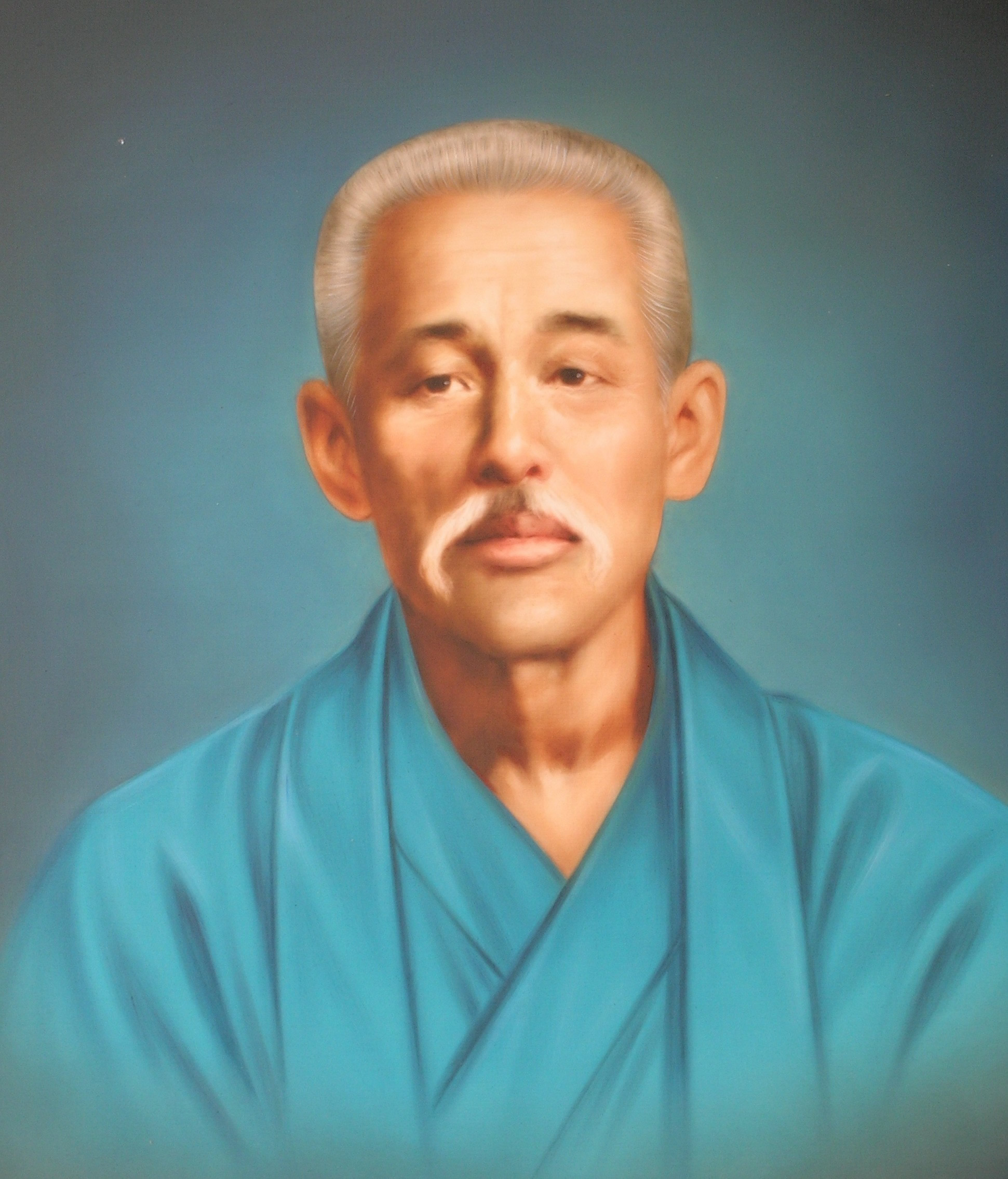 Higaonna Kanryo (東恩納 寛量) Sensei was born in the city of Naha (那覇), Okinawa (沖縄) in 1853. As a youth, he began learning Kempo and very quickly became a master martial artist. In 1868 he traveled to Fuzhou (福州), China. After some time he was introduced to Kempo master Ryu Ryu Ko and was finally, after a long period, accepted as Ryuko's personal disciple. Higaonna Sensei stayed with Ryuko for fifteen years and became Master Ryu Ryu Ko's most skilled student.
Higaonna Sensei returned to Okinawa in 1881 where his martial arts became known as Naha-te (那覇手) or Naafaa-dii in Okinawan. His fame as a martial artist quickly spread and the Okinawans soon realized that the martial art of Higaonna Sensei exceeded anything that they have seen before. Higaonna Sensei opened his house as a Dojo and continued to teach until his death in 1915. He is honored as the founder of Okinawan karate.
Miyagi Chojun (宮城 長順)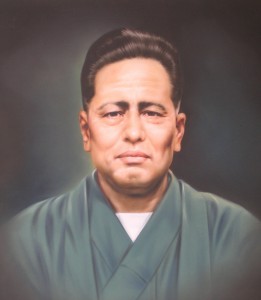 The founder of Goju-ryu (剛柔流) karate, Miyagi Chojun (宮城 長順) Sensei, was born in Okinawa in 1888. At the age of twelve, he started karate training with Arakaki Seisho (新垣世璋) Sensei. At fourteen he was introduced to Higaonna Kanryo Sensei and was eventually accepted as Higaonna Sensei's personal disciple. Together they devoted their lives to the improvement and advancement of Naha-te, until Higaonna Sensei's death in 1915. After his Master's death, Miyagi Chojun Sensei traveled to China to develop his knowledge of the martial arts. On his return to Okinawa, he began to teach at his home. Later, he also taught at the Okinawan Prefecture Police Training Center, at the Okinawan Master's Training College, and at the Naha Commercial High School.
Miyagi Chojun Sensei was responsible for structuring Naha-te (which he later named Goju-ryu) into a systemized discipline, which could be taught to society in general. The teaching system, which he formulated, enabled Karate to be taught to schools for the benefit of young people and to reach vast numbers of people throughout the world. However, his private teaching at his home remained strictly in adherence to the principles and traditions of the teacher, Higaonna Kanryo Sensei, and his teacher before him Ryu Ryu Ko.
Miyagi Chojun Sensei passed away on October 8th, 1953, leaving a great legacy behind. He predicted that during the twentieth-century Karate would spread throughout the world. Today we can see that his prediction has been realized; Karate is not only practiced in Japan but can be found in over 140 countries of the world.
Miyazato Eiichi (宮里 栄一)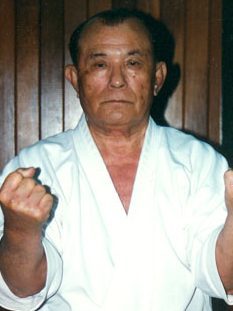 After Miyagi Chojun Sensei's death a meeting of senior students and Miyagi Kei, the second son of Master Miyagi, it was agreed that Miyazato Eiichi Sensei was the most qualified to succeed Miyagi Chojun Sensei. Miyazato Sensei accepted the responsibility and dedicated his whole life to preserving and spreading Goju-ryu in Okinawa from his dojo, the Jundokan (順道館). 2003 marks the 50th anniversary of the Jundokan Dojo.
Tenth Dan, Hanshi, Miyazato Eiichi (宮里 栄一) was born in Naha, Okinawa on July 5, 1922. He began his training in Goju-ryu Karate-Do in 1938 under the founder of Goju-ryu, Miyagi Chojun Sensei. At the early age of thirteen, Miyazato Sensei was accepted in Miyagi's Garden Dojo for formal training. Although Miyazato Sensei excelled in the art of Goju-ryu, Karate was not his only passion. His daily martial arts training was divided equally between Karate and the sport of Judo. Not only did he master the sport of Judo, but he also became Okinawa's and the All Japan Police Judo champion for many years. Miyazato Sensei passed away on 11th December 1999.
Taira Masaji (平良正治)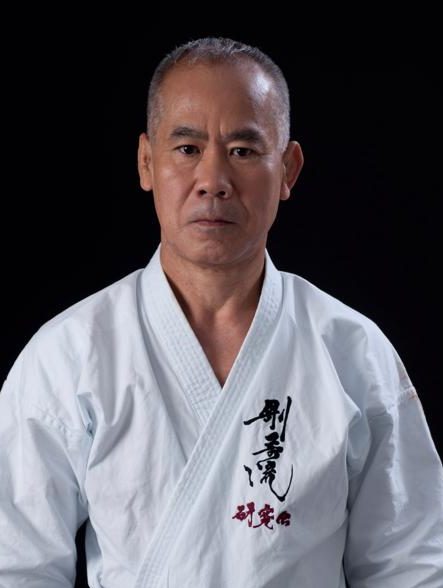 At age 16, Taira started training in Goju ryu karate at the Jundokan dojo of Eiichi Miyazato. There was a break in his karate training when he joined the Japanese police force. He has trained continuously at Goju ryu karate since he was 21.
He joined the Japanese Police Force when he graduated from High School. As part of his riot police training he was required to learn judo. He achieved his judo black belt in 3 months, when 6 months was more common. He attributes this to his childhood Okinawa Sumo training. He is currently 4th dan in Judo.
His day as a member of the riot squad ended at 5pm whereby he would make the journey from Gushikawa City where he was stationed to the Jundokan in Naha where from 6pm to 10pm every night he would pursue his karate training with an equal dedication under the guidance of Miyazato, founder of the Jundokan and heir to Chojun Miyagi.
While in his early years at the Jundokan he met a senior in the Dojo called Shinko Gima. Gima was a very wiry, extremely strong man whose kata exudes power. Although a slight man, he was formidable in his speed and execution of technique. Realising they were on a similar path the two men teamed up and spent their time in the dojo training together. Both hating to lose there were many battle scars received on both sides. After the dojo on many occasions, taken by the spirit of perfecting their technique, they would make their way to the hills of Madanbashi approximately an hours walk from the Jundokan. There they would spend their time training until sunrise on some occasions. Being the hills and given Okinawa's tropical climate, the mosquitoes were always in abundant supply giving them all the more reason to keep moving.
Most of Taira's karate career has revolved around his focus on the Bunkai of the Kata. He has painstakingly dissected the kata and trained his body to the point where he has mastered the inner workings of Goju Ryu Kata. Taira's bunkai is unusual in his insistence on working the kata in sequence, rather than picking techniques from the kata in isolation. He is also adamant that the kata do not need to be changed to perform bunkai.
Taira's first overseas seminar was held in Montreal, Canada in 1996 and hosted by Jean Frenette. Since then he has been traveling the world giving seminars on his interpretations of the bunkai of the Goju Ryu kata. He has presented seminars in Australia, New Zealand, the United States and Europe.
Taira left the Jundokan dojo in 2011 to form the Okinawa Goju Ryu Kenkyukai (Okinawa Goju Ryu Research Society) at the request of his students.
Taira was promoted to 9th dan by Kishaba Chogi, founder of the Ryukyu Bujutsu Kenkyu Doyukai and one of the few remaining students of Miyagi Chojun Sensei, and a junior to Miyazato Eiichi Sensei.
Taira is also a student and teacher of Okinawan Kobudo.